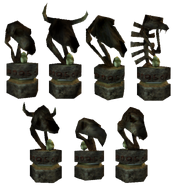 Expansion required

This article is too short to provide more than rudimentary information about the subject. You can help

Alone in the Dark Wiki

by

expanding it

.

This template will categorize articles that include it into Category:stub.
The Abkanis figurines are items found by Aline Cedrac and Edward Carnby in Alone in the Dark: The New Nightmare.
The New Nightmare
[
]
These are seven Indian statuettes depicting the Abkanis gods in animal form. At least four of these were found by Richard Morton in the depths of Shadow Island . Some were hidden by his grandson Jeremy while others by Judas De Certo to prevent Joseph Edenshaw from completing a ritual to cast out the creatures of darkness , one was left to Alan Morton by his grandfather.
Edward will recover that of Anticoalt, depicting a bison, from the niche in the accessible library using the statue of an equilibrist .
Hemicles's, depicting a bull, is recovered by Edward by completing the Abkanis ritual at the stone circle on the moor
The statuette of Ouphenos, depicting a bear, is hidden inside a stone sculpture in the Morton greenhouse that Edward must push to the ground in order to break it.
Aline will recover an identical statue of Anticoalt in the secret room behind the mirror where she will confront De Certo .
The statuette of Gilamesh, representing a snake, is found by Aline in the fort , solving the enigma of the planetarium along with the seal of Obed Morton and two keys.
eliopaner's one, depicting a fish, is obtained by Aline along with the Abkanis energy stone using the stone disc on the Indian totem outside the fort.
The last one, depicting an eagle representing Hecatonchires, is always taken by Aline in the world of darkness , near a cliff into which Obed Morton dived, dragging his brother Alan .
Curiosity
[
]
Both in the Carnby game and in that of Aline the bison statue of Anticoalt will be collected: evidently due to a development error it has been substituted for the statuette depicting a horse of the god Melacanth, however the model of this is still present in the game.
Curiously, once Edward Carnby enters the world of darkness, he will have the Anticoalt figurine in his inventory.
A removed dialogue explains why Aline and Carnby split up again after Alan lost the last statuette.
The name of the god Hecatonchires refer to Hecatonchires (or Centimani ) of Greek mythology, while the Gilamesh recalls Gilgamesh, a hero (or deities according to other sources) ancient Orient.