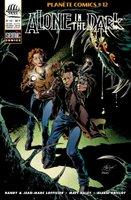 Life is a Hideous Thing was comic book story that acts as a prequel to Alone in the Dark: The New Nightmare game. It was published in France by Semic comics in 2001. it was eventually translated to english by the USA in September 2002.
The story centred on Edward Carnby (of the New Nightmare continuity) and the newly introduced Aline Cedrac who were both on a trail of a mysterious conspiracy in Tibet.
Expansion required

This article is too short to provide more than rudimentary information about the subject. You can help

Alone in the Dark Wiki

by

expanding it

.

This template will categorize articles that include it into Category:stub.
Charles Fiske
, former agent of a super secret agency called
Bureau 713
, joined forces with Edward Carnby in 1982 in order to form a detective agency which handles cases of the bizarre connected to paranormal or supernatural events. Carnby has a talent for spotting evil, no matter what its guise. Aline Cedrac is a brilliant 24-year-old archeologist specializing in the Indian/Tibetan areas. Carnby and Cedrac meet and join forces with Ganesha, one of the largest antique dealers in Asia, searching for
Aggartha
, a hidden land and last resting place of the
Crown of Genghis Khan
: a deadly artifact that could open the door to unspeakable evils. But first, they must pass the lumbering
Yian-Ho
who have guarded the Crown for centuries.
Characters
Edit
Nosmo Cobis! Holo Erasma Rabis! - incantation said by Carnby
You Fool! Frank is Dead!
The comic title was named after the first part of a quote from HP Lovecraft's story, "Facts Concerning the Late Arthur Jermyn and His Family".
References
Edit
Community content is available under
CC-BY-SA
unless otherwise noted.