| | |
| --- | --- |
| | AITD: TNN locations project |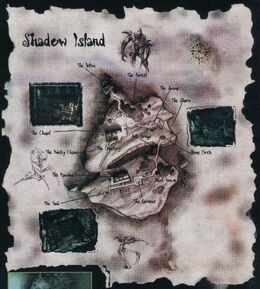 Shadow island was an mysterious island that was owned by Professor Obed Morton which is featured in Alone in the Dark: The New Nightmare.
Isolated from any other civilization, the island was the home of Morton family for a very long time. While macabre even on the surface, the island had an even darker secret: one of the several gates to the World of the Darkness, a dimension full of strange and dangerous creatures. Several members of the Morton family had a strange bond and affinity to this dimension. Even if the gate was closed, several supernatural manifestations occurred during the years, even harming some of the guest of the Island. However, it was with Alan Morton that the possibility of someone opening the gate became a real possibility. Alan and his twin brother Obed took contact with Christopher Lamb, who financed them in exchange of the informations necessary to open the other gates. Obed at some point betrayed Alan selling all the results of the research hoping to get the possibility to leave the island forever, but Lamb abandoned him, and to his brother's revenge. Ultimately, despite Edenshaw's efforts, Alan opened the gate, but two agents, Edward Carnby and Aline Cedrac, managed to close it, and Edenshaw performed a ritual that destroyed the island, and the gate with it.
Locations on Shadow island
[
]
Swamp
Gardens

Stone Circle
2nd Floor
Library
Archibald's Study
Archibald's Room
Attic
Expansion required

This article is too short to provide more than rudimentary information about the subject. You can help

Alone in the Dark Wiki

by

expanding it

.

This template will categorize articles that include it into Category:stub.